Endorsement Stamps For Checks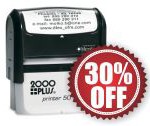 For bank deposit stamps, self inking check endorsement stamps, signature stamps and many other business rubber stamp, you can't go wrong when you visit RubberStampChamp.com. You might want to stamp for deposit only on the back of checks and either get a stock message rubber stamp for that purpose or design your own.  You can put any information, and even your company logo on a custom rubber stamp at RubberStampChamp.com and even choose from a variety of ink colors all at no extra charge.  RubberStampChamp.com has great pre inked, self inking and wood mounted hand stamps, all at great prices with free shipping on orders over $10.  Ordering rubber stamps online at RubberStampChamp.com saves you time, money and hassle. Do it today!
Write a comment
You must be logged in to post a comment.