Ideal Self Inking Stamps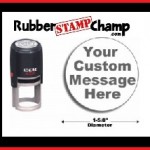 Ideal self inkers, what a ton of people call Ideal self inking rubber stamps, are always on sale at RubberStampChamp.com. And not only does RubberStampChamp.com have great prices, we deliver fast and free on orders over $10. You can rubber stamp documents, rubber stamp return addresses, or rubber stamp paid on invoices, and you can do all that and more with a wide variety of self ink stamp sizes and shapes, all easily customized at RubberStampChamp.com.  Shop now and you will find the best prices anywhere on Ideal self inking stamps.
22 May, 2017 (13:22) | Address Rubber Stamps, Address Stamps, Rubber Stamps, Self Inking Stamps | By: admin
Write a comment
You must be logged in to post a comment.
Welcome Rubber Stamp Champ Rubber Stamps Blog
Rubber Stamp Champ supplies a wide variety of rubber stamps, consisting of self-inking rubber stamps, notary rubber stamps, address rubber stamps, pre-inked rubber stamps, hand stamps, numbering stamps, stamp machines, embossers, ink pads and many more.
Stamp Categories
RSS / ADMIN