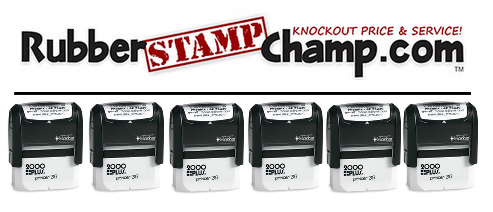 For just $8.75, or 50% off our already Low, manufacturer direct Price, RubberStampChamp.com will customize a Cosco Printer 30.
Printer 30 self-inking rubber stamps feature a stamp impression measuring 3/4″ x 1 7/8," perfect for just about any stamp use.
Be confident RubberStampChamp.com produced a premium quality rubber stamp for you, whether you utilize your custom self-inking Cosco 2000 Plus self-inking Printer 30 for bank deposits, return address stamping, or as a business stamp, 725,000+ customers can't be wrong!
An available five lines of custom text, or the ability to use custom art means the Printer 30 is one of the most versatile self-inking rubber stamps on sale at RubberStampChamp.com.