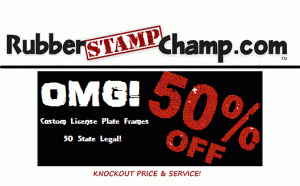 Half-price license plate frames, custom engraved just for you!
That's right folks, get em' while you can!
Custom laser-engraved license plate frames at RubberStampChamp.com are right now, half-price!
That's 50% off Rubber Stamp Champs Low, Knockout Prices.
Normally $59.95, now, just $29.95, RubberStampChamp.com is setting Low Price records!
Not only are RubberStampChamp.com's license plate frames easy on the eyes, they're 50 state legal too.
Come one, come all, come take advantage of or RubberStampChamp.com's manufacturer direct, insanely Low, custom laser engraved license plate frame sale today!
Half-off our custom engraved license plate frames won't last forever, come get your personalized frame right now.