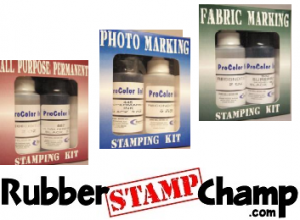 Welcome to the smoking deal that is the Fabric Marking Kit from RubberStampChamp.com.
At just $29.95, Rubber Stamp Champ is blowing these fabric marking kits out!
You'll find a 2 oz. bottle of fabric marking ink, a 2 oz bottle of re-conditioner and an IP-2, an industrial stamp pad.
The stamp pad measures 3 1/4″ x 4 1/4."
RubberStampChamp.com's fabric marking kit is available in red, black and blue ink.
Permanent, acid-free, quick-dry fabric ink for use with rubber stamps is water and fade resistant; for best results, wait 24 hours before washing.
The Low, Knockout Price of $29.95 includes free shipping and handling.