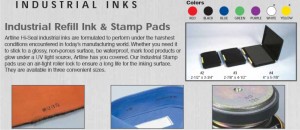 RubberStampChamp.com, the all mighty rubber stamp and rubber stamp accessory guru, stocks all types of rubber stamp refill inks for Low, Knockout Prices.
Within that group of stamp ink refill bottles, Rubber Stamp Champ stocks, and is ready to ship, Artline Hi-Seal industrial rubber stamp inks.
Artline Hi-Seal stamp ink refills are for industrial applications and glossy surfaces alike.
Glossy-surface stamping can be tricky at times, especially when making use of the wrong rubber stamp ink.
RubberStampChamp.com has customer services representatives can assist you in the choosing of the appropriate ink for your stamping job.
Call, or stop by RubberStampChamp.com today to find the stamp ink best suited to your application today.