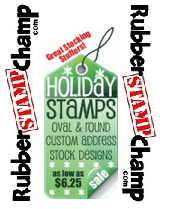 Man, is it getting close.
Black Friday has already taken place, the throngs of rabid shoppers beating each other up, down and into the back of the line for 1 of 100 TV's at a discounted price.
The Christmas lights are going up, a house in Australia set the record for the most lights, the International Space Station tried to take a picture for posterity.
Its Christmas time again folks!
This is your last chance to find Low, Knockout Prices on all Holiday rubber stamps!
RubberStampChamp.com has a wide selection of customizable and stock message holiday rubber stamps to choose from.
With Rubber Stamp Champ's lightening-fast turn-around times and free shipping on all orders more than $10, you can't lose!
Get over to RubberStampChamp.com right now to buy your holiday rubber stamps!