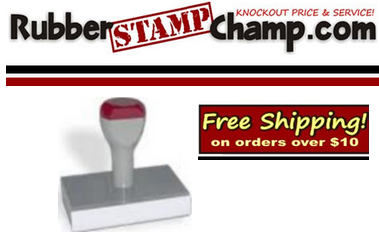 Custom hand stamps are a staple at RubberStampChamp.com.
One of the hundreds of near-flawless products you'll find at RubberStampChamp.com at incredibly Low, Knockout prices are our Large Custom Rubber Hand Stamps.
RubberStampChamp.com's large custom rubber hand stamps page is presented to you with two categories to choose from; text only large custom rubber stamps, and large custom art rubber hand stamps.
Custom text rubber hand stamps come in sizes from 2″x 2," up to a massive 4″ x 7!"
Custom art only, large rubber hand stamps from RubberStampChamp.com come in sizes between 2″ x 2″ and up to an unbelievable 8″ x 10!"
The beautiful thing about shopping at RubberStampChamp.com for your large custom rubber hand stamp?
Each customized large hand stamp price already includes shipping!
Get over to RubberStampChamp.com right now!