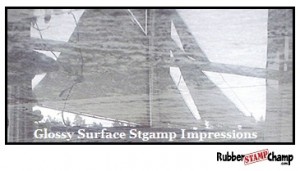 For stamping on glossy surfaces you'll have the option of using a traditional hand stamp or a custom pre-inked stamp.
Stamping on surfaces like brochures, CD's, photographs, or even wood, metal and plastics, is easily done.
Surfaces you would logically think un-stamp-able like stone, wood, or other, non-conventional stamping surfaces are easy to print custom stamp impressions on with RubberStampChamp.com.
Already have a custom hand stamp and separate ink pad your possession?
RubberStampChamp.com's Hi-Seal refill inks page is where you need be.
If a hand stamp isn't up to your requirements, then get over to the pre-inked industrial rubber stamps portion of RubberStampChamp.com.
Either way, if you need to print rubber stamp impressions onto glossy surfaces, RubberStampChamp.com is all you need!