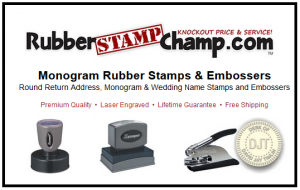 Monogram rubber stamps from RubberStampChamp.com are premium quality, laser-engraved Xstamper rubber stamps.
Personalized Xstamper monogram rubber stamps boast something no other customized monogram rubber stamp can, a lifetime guarantee.
RubberStampChamp.com offers you the choice between eleven vibrant rubber stamp ink colors.
Your RubberStampChamp.com monogram stamp is stamp ink refillable and prints up to 50,000 monogram stamp impressions between rubber stamp ink refills.
Because your new Rubber-Stamp-Champ-made-monogram stamp will total more than $10, the Champs at RubberStampChamp.com will ship your monogram rubber stamp free of charge.
Not only are RubberStampChamp.com's Champs shipping your monogram stamp free of charge, they'll also turn your rubber monogram stamp around in just 1 – 3 business days!