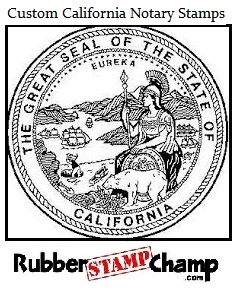 Custom California Notary Public rubber stamps from RubberStampChamp.com are the finest custom Notary Public stamps on the market today.
The Champs, widely known by circles of established, and freshly certified California Notary Public's the nation over, as a reliable custom notary stamp manufacturer; the only stamp maker consistently capable of next day rubber stamp delivery.
Next day, custom,California Notary stamp delivery.
One stipulation applies in order for the Champs to deliver next day custom Notary Public rubber stamps.
Simply place your order online with RubberStampChamp.com before 9 A.M. PST the day prior your stamps required next day arrival.
There they go again, RubberStampChamp.com, making custom Notary Public rubber stamp ordering, Too Easy.