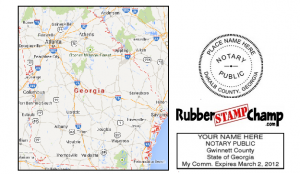 Notaries working in the Peach State, beautiful Georgia, have been saving huge sums of money on their recent Notary stamp and notary seal purchases.
They've found the semi-exclusive honey hole that RubberStampChamp.com is for individuals requiring premium quality custom rubber stamps and seals.
The incredible thing about RubberStampChamp.com's service, apart from their capacity to flawlessly produce near perfect notary stamps, is their ability to deliver stamps next day!
If you're not in a hurry to receive your custom Georgia Notary rubber stamp, RubberStampChamp.com happily ships all orders over $10 free of charge!