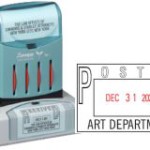 Nothing works as great for marking invoices PAID as a custom rubber stamp including a date marking feature from RubberStampChamp.com.
Most people know they want a rubber stamp that says PAID for marking invoices, but all to often they wind up just getting the PAID stamp and then writing the date on which the invoice was paid by hand.
This is not that great.
If that's something you've been doing with rubber stamps for your business, stop now and click this link instead to go directly to the page at RubberStampChamp.com where you can order PAID rubber stamps with date already included.
It's quite simple because Rubber Stamp Champ offers a huge variety of customizable date rubber stamps, where you can change the date to today's date easily, and have the custom word PAID, or POSTED or any other words included on the stamp.
Some people even customize our daters with the words PAID ON, so when you change the date to today's date, the impression you create on your invoice with your custom rubber stamps says PAID ON combined with the date.
Nothing could be more perfect, and RubberStampChamp.com makes it easy and very affordable to do this right online.  So stop stamping PAID and then writing the date by hand.  You don't have to do that.
Get a customized date rubber stamp from Rubber Stamp Champ instead, and you'll be glad you did.