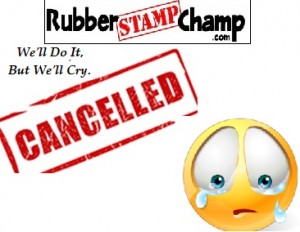 RubberStampChamp.com works incredibly fast on turning around rubber stamp orders, it's what our customers have come to expect after so many years of lightening fast turnaround times and near flawless custom rubber stamp production.
If for any reason you need to cancel your order, please do it quickly after placing your order via email, to we will do our best to stop production on the order.
Unfortunately, if a day or more passes, it's usually too late; the best way to avoid a situation like that is have us send you an email proof of your custom rubber stamp, or call and confirm what you want to order before entering your credit card information into our system.