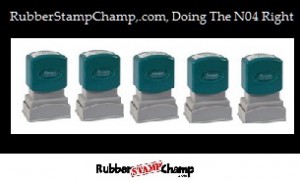 Rubber Stamp Champ proudly offers, to those RubberStampChamp.com customers seeking smallish pre-inked rubber stamps, the Xstamper N04.
Pre-inked Xstamper N04 rubber stamps feature a 1/2″ x 1 1/16″ rubber stamp impression area.
Xstamper rubber stamps from RubberStampChamp.com are laser-engraved and are stamp ink refillable.
Rubber Stamp Champ makes it easy to customize any artwork or text you're interested in making use of, they don't charge for customizations either.
Out of the 39 non-glossy surface Xstamper stamp selections one can purchase at RubberStampChamp.com, you won't find one which you'll pay for shipping.
RubberStampChamp.com, it's where the rubber stamp wise do their shopping.