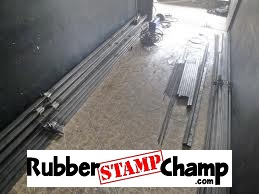 Permanent inks for industrial marking are just one internet stop away!
Marking on a seriously challenging industrial surface with a rubber stamp?
Trying to anyhow, eh?
For now, put your rubber stamps down.
Slowly, back away from the industrial surface.
Now, forget everything you knew about using rubber stamps with permanent ink for industrial marking.
Good.  Next, get over to RubberStampChamp.com and visit the Artline Rubber Stamp Inks page and find the quick-dry, permanent rubber stamp ink for industrial marking which best suits your purpose.
It's just that easy, only when you shop with The Champs.