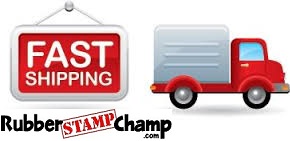 Just ordered a custom rubber stamp from RubberStampChamp.com?
But didn't see, during our almost-too-easy checkout process, when you should expect your stamps to arrive?
That's an easy question to answer.  Curious RubberStampChamp.com shoppers can simply visit our Shipping Policy page.
You'll find answers to everything related to shipping times, lightening-fast turn-around times, and what to do if you need a stamp faster than usual.
Other related topics include RubberStampChamp.com's return policy and an explanation of differences concerning how long various rubber stamp types take to manufacture.
Come see why the general public can't get enough of RubberStampChamp.com's manufacturer-direct-to-the-public-pricing!