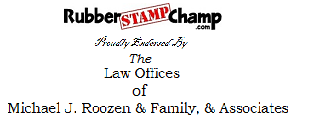 Law offices, like one of the former great comedians, Rodney Dangerfield, get no respect.
Except at RubberStampChamp.com, the leading online retailer for Low Price custom rubber stamps, even for law offices!
Just like any customer visiting RubberStampChamp.com to buy whatever assortment of custom rubber stamps, you'll be treated to the obligatory Knockout Prices & Customer Service.
RubberStampChamp.com not only manufactures custom law office rubber stamps in many forms, self-inking, pre-inked, hand stamps, pocket stamps and more, you can buy custom laser-engraved items perfect for any law office with class!
Redaction kits including both redaction rubber stamps and redaction markers made by Xstamper are available with a specially formulated redaction ink!
I forgot to mention RubberStampChamp.com's incredible, un-matched offer which applies to any order totaling more than just $10.
Shipping is FREE.