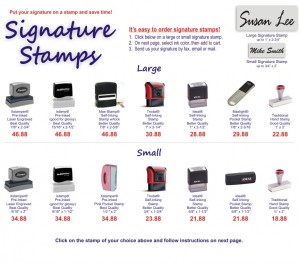 If signing your name is all you seem to do anymore at work, RubberStampChamp.com can help.
When signing your name has become the epitome of tedious tasks, RubberStampChamp.com can help.
Anytime hiring an assistant to make up time lost to affixing your signature to documents, you guessed it, RubberStampChamp.com can, and most certainly will, help.
RubberStampChamp.com is the place to go when signing your name more than you like has become commonplace.
The Champs offer Low, Knockout Prices on all custom rubber stamps, including custom signature rubber stamps.
Choose from many types of signature-capable-stamps and eleven vibrant stamp ink colors.
Spending more than $10?
RubberStampChamp.com will ship your newly customized signature rubber stamps to you, free!