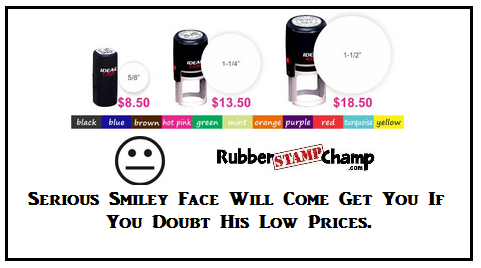 Stock clip-art rubber stamps can be found in all four corners of the World Wide Web, you can only find stock clip-art stamps for Low, Knockout Prices at RubberStampChamp.com.
Rubber Stamp Champ has been bringing stamp manufacturer direct, wholesale prices to the public for over a decade.
Shopping confidently at RubberStampChamp.com comes naturally to all wise enough to pay us a visit.
With over 700,000 customers ordering from RubberStampChamp.com, there's not a reason why someone wouldn't make their lives easy next time stock clip art stamps are required.
Rubber Stamp Champ's easy-to-order-from-website has over 170 stock clip art rubber stamp choices.
Eleven stock clipart stamp color choices and free shipping on orders $10 or more, RubberStampChamp.com is the wisest choice.