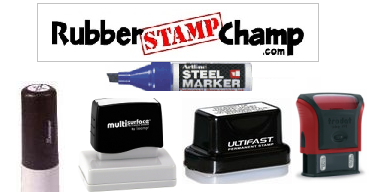 Glossy-surface-stamping can, at times, be a little tricky.
We've heard the horror stories here at Rubber Stamp Champ; the Champs can certainly help.
RubberStampChamp.com stocks a variety of quick-dry, permanent ink rubber stamps designed to make challenging glossy-surface-stamping a thing of the past.
You can now go forth with confidence, glossy-surface-stamping public at large, not one remnant of the formerly prevalent non-porous permanent stamp ink frustration.
Your new found senses of purpose and self-assured nature suits you well.
It's time to show the world how RubberStampChamp.com assisted you in obtaining the solution to your quick-dry permanent rubber stamping blues.