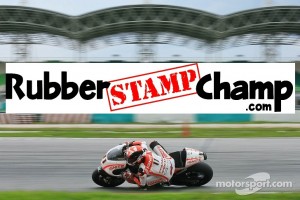 Just like Ben Spies, RubberStampChamp.com's favorite MotoGP motorcycle racer did after last year's disappointing finish aboard the Yamaha Factory Team motorcycle, you may need a new team to make your custom or stock message rubber stamps.
We hear a lot from customer's of our competition.
We hear how your stamps come, often late, not assembled, and usually at exorbitant, non-knockout prices.
RubberStampChamp.com hears day in, and day out, how other customer service representatives have treated them rudely, and, at times, how they've down right lied to you, our new valued customer, about the capabilities of the stamp you ordered.
Enough is enough, right?
Make the change, as Mr. Spies did (from Yamaha to Ducati), from your old stamp maker, to RubberStampChamp.com.
Not only do we have top quality production, lightening-quick turn around times, and extraordinarily knowledgeable customer service staff and stamp makers, RubberStampChamp.com also has a significantly higher level of capabilities due to our ever expanding production capabilities.
For instance, RubberStampChamp.com's line of Xstamper rubber stamps, a pre-inked custom rubber stamp with a laser-engraved, pre-impregnated rubber stamp die is known for it's astounding performance, crisp, clean and clear, excellent quality impressions, as well as, the vast number of impressions it's capable of repeatedly stamping between stamp ink refills, are not just the best performance choice for your rubber stamping needs, it's sold at knockout prices you'll not find elsewhere online!
RubberStampChamp.com features thirty nine shape and size configurations, and that's only the Xstamper pre-inked rubber stamps we recommend for use upon non-glossy paper!
It should be a clear choice, RubberStampChamp.com is simply the best when it comes to custom and stock message rubber stamps, whether you're ordering the most simply designed traditional hand stamp, or the high-octane Xstamper line of rubber stamps, Rubber Stamp Champ will always produce the best quality products, and will bring them to your door for less money, period.
Join the team, visit RubberStampChamp.com today!