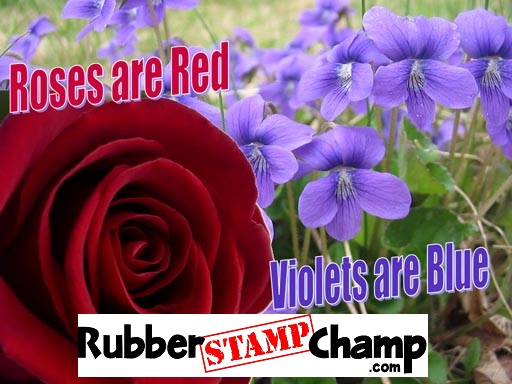 Roses are red, violets are blue, at RubberStampChamp.com, your custom rubber stamp can be either of the two…
Rubber Stamp Champ may not win the Wallace Stevens Poetry Award, RubberStampChamp.com most certainly would win any award for the best stamp company in the world!
It's not just our choice of eleven vibrant custom rubber stamp ink colors, it's not our unheard of free shipping on orders over ten dollars, it's not the lightening fast nature of our turnaround times, or our exceptional, second to none customer service, or even our almost mistake free premium build quality, it's all these factors combined which makes RubberStampChamp.com the obvious choice, if there were a custom rubber stamp maker award.
Rubber Stamp Champ has become the force to be reckoned with because of  the above mentioned company attributes, with over two thousand custom rubber stamps and custom rubber stamp accessories in stock and at knockout prices, you simply cannot find a higher quality custom rubber stamp for less money.
RubberStampChamp.com, as you can plainly see, is the place to do your custom and stock message rubber stamp shopping!