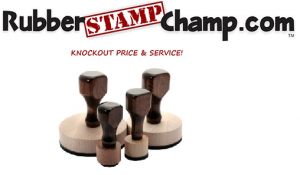 RubberStampChamp.com has traditional round hand stamps available at Low, Knockout Prices.
In ten round hand stamp sizes, with diameters starting at 3/4," and going up to a full 3″ diameter, RubberStampChamp.com has a Knockout Selection of round hand stamps.
Round traditional hand stamps are safe for stamping hands.
Hand stamps that are round, from RubberStampChamp.com are tough enough to be used with quick-dry, permanent rubber stamp inks.
What's really interesting is that RubberStampChamp.com doesn't charge for customizing logos or round rubber stamp text.
Plus, as long as your custom round rubber stamp, for use with separate stamp pad, is over ten dollars, Rubber Stamp Champ ships your order free!