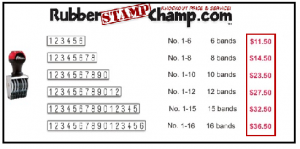 RubberStampChamp.com's selection of non-self-inking number only rubber stamps ranges from six bands to, in some size selections, 16 bands.
With seven character sizes to choose from the non-self-inking number stamps from Shiny and RubberStampChamp.com are of exceptional quality.
For use with separate rubber stamp ink pads, also easily obtained at RubberStampChamp.com, Shiny non-self-inking number stamps are ideal for use with both traditional water-based stamp inks, and permanent quick-dry inks.
Over-sized adjustment wheels make adjustment easy, and prevent fingers from making contact with the number bands.
Shiny's ergonomically designed handle means printing stamp impressions is an effortless affair.