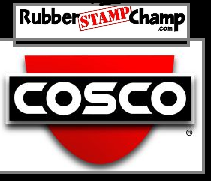 Well, not forever.
But, for quite a while, the next little while, Cosco self-inking Printer series customer rubber stamps will not be on the 'subjects to write about' list.
Take the Cosco self-inking Printer 50 at the Low Price of $19.25, sporting a full 2″ round rubber stamp die; I've likely said everything I can regarding round self-inking stamps by Cosco.
Thus, the Printer 50, with it's massive round self-inking stamp die and it's 50% off price of $19.25 will be the last of, at least for the foreseeable future, of the Cosco 2000 Plus self-inking stamps blog posts.
I bid the a safe and easy farewell, knowing full well I'll see you in the not-so-distant-future.
Thank you, Cosco self-inking stamps page, we knocked it out!