In this high tech world there are often low tech solutions, like wood mounted custom rubber stamps, for which there is no high tech substitute.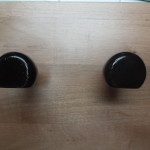 Wood mounted rubber stamps are still used extensively, even though the newer self-inking and pre-inked stamps are readily available.
Why?
Because wood mounted rubber stamps can be made in any size you need, up to 8 x 10 and as small as a quarter inch square…where self inkers and pre inked stamps come in a variety of sizes, but not an almost unlimited variety like with rubber stamps mounted on wood.
At RubberStampChamp.com you can easily upload your art or text files and order a huge variety of custom wood mounted stamps in an almost unlimited range of sizes.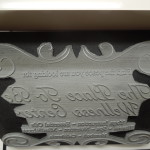 Rubber Stamp champ also specialized in offering the correct ink pad for use with your custom wood handled wood mounted rubber stamps, and frequently provides custom wood stamps with permanent ink kits for marking on all types of surfaces.  That's another reason wood rubber stamps are still so popular, because they are easy to use with permanent ink in permanent ink stamp pads. 
Visit Rubber Stamp Champ today and design, proof and order all the mounted on wood rubber stamps you can handle.  We'll provide them fast, with top quality engraved dies, and built to last, all for a price that can't be beat. 
RubberStampChamp.com, your top source for rubber stamps mounted on wood blocks.