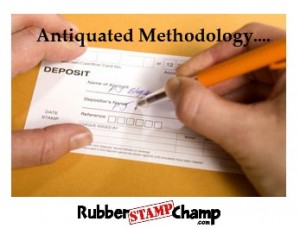 Bank deposit rubber stamps from RubberStampChamp.com come in many shapes and sizes.
Selection like Rubber Stamp Champ provides to online rubber stamp buyers is rare.
RubberStampChamp.com combines healthy custom bank deposit rubber stamp selection with their Low, Knockout Prices for a one-two-combination that's sure to leave purchasing agents laying on the floor, foaming at the mouth in amazement.
Unfortunately, RubberStampChamp.com does not include drool rags in their bank deposit stamp packaging, they do however ship all bank deposit rubber stamp orders over $10 free of charge.
What's more, RubberStampChamp.com's team of stamp-making-Champs will produce, test and ship your custom bank deposit rubber stamp in just 1 – 3 business days.
Fast, Low Wholesale Prices, friendliest customer service; RubberStampChamp.com.