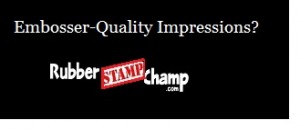 Rubber Stamp Champ makes it their mission in life to serve rubber stamp and rubber stamp accessory customers.
The Champs are known widely for lightening-fast-turnaround-times, premium quality rubber stamps, manufacturer direct prices and stellar customer service.
RubberStampChamp.com stocks over 1,800 products which include custom rubber stamps, rubber stamp accessories, and products like the Ideal M1D round embosser.
Ideal M1D embossers with a 1 5/8″ cost just $46.50 at RubberStampChamp.com.
These premium quality, laser-engraved, completely customizable Ideal M1D embossers with 1 5/8″ diameter die, come to you via First Class mail, totally void of all shipping and handling charges.